A collage of the words my patients, family, and friends used to describe me–very humbling: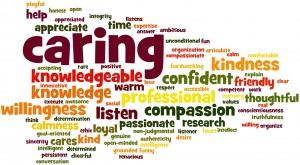 Words of Praise from my patients:
"After nearly 2 years of not feeling well and not knowing why, it has been an unbelievable relief to work with Jen Owen. Because of the time she took to look at the whole picture, I was able to start treatment and get relief quickly. Her manner and depth of knowledge put me at ease, which is not an easy task. I highly recommend her to anyone looking for a holistic yet practical approach to health!"- Kate
"Jen really listens. Something you just don't find with many health practitioners. It is refreshing to find someone that is willing to find the root cause of symptoms rather than just mask them. When I first went to Jen my skin was an absolute mess, just one symptom of many that I was experiencing. Slowly but surely it is clearing up. I'm so happy to see the healing on the outside because I know it is a reflection of healing on the inside. I have since sent my sister, brother-in-law, and 3 friends to her! I trust her to help my friends and family as much as she helped me. Thanks Jen!" – Ashley R.
If you are looking for a natural solution for your health concerns, Jen is amazing! Very reasonably priced. Helps get to the root of your problems. Takes the time to listen and is a great problem solver.- Anonymous
"Jen is wonderful. If you're looking for someone who is competent, creative and a great listener, I highly recommend. I have never walked out of a medical office feeling more satisfied and confident with my experience and plan going forward. We are lucky to have her in Bloomington."-Anonymous
If it wasn't for Jen, I would be in a world of hurt. She was persistent when specialist would only give boilerplate answers. I trusted her with my life, and I'm glad I did! –Michel P.
"Jen is amazing! I am so thankful I was referred to her. I had SUFFERED for two years with Hashimoto's (autoimmune thyroid problem) symptoms, mostly physical, but at this point it was beginning to wear on me emotionally. All of my test results always came back normal, but I was exhausted to the point I couldn't get out of bed sometimes, my hands and feet were so swollen, not to mention I had  a whole host of other digestive issues I didn't even realize were connected. I spent most of my first session crying and trying to give Jen all of the information. At the end of the consultation she said something I will always be thankful for, 'I believe you, and we are going to find out what the problem is!' This was the very first time a physician had seen anything other than my test results. After doing some allergy testing and finding out the root causes of my problem (dairy, eggs and rice), I am so happy to say I am feeling better than ever! I am full of energy, I have been riding bikes, walking and even the swelling in my hands and feet is gone! I am so thankful to Jen for all of her hard work and compassion toward her patients, I preach her praises wherever I go and I am ever thankful to her!" -Natasha
"It feels pretty amazing to have an understanding of my health and well-being, and I thank Jen for this empowerment. I know exactly where my health and wellness stand, and I have the road map to improve where needed." McKenzie G.
"Jen is easy to talk to; she genuinely cares about her patients. She seems to never give up until she's found an answer."-Debbie
"I feel like I have my own fire back"-P.M.
"Before I started seeing Jen, I didn't have any hope that I could actually get better." -Natalie
"Jen is great and she knows what she is talking about! Jen listened to me, and also it wasn't about just giving me a easy quick fix to feel better. Since I have been going to Jen, I have only had 1 real headache! I was having headaches all the time! I also am sleeping so much better! She has given me hope that I can feel better and she also was very informative of eating better and often to keep my blood sugar level. I am so thankful that I listened to my friend who referred Jen to me. Thank you Jen!" -Jackie